Trump said- something immediately grew up
US President Donald Trump is going to make a big announcement on Sunday. The White House has given information about the announcement from President Trump, but has not said what the announcement will be.
There are reports that the US military has conducted an operation against the Islamic State group.
President Trump has also tweeted and said, "Something big has happened right now." Trump tweeted this three hours ago. That is, according to American time at 10.30 in the night. According to US media, Trump had allowed an operation to target Abu Bakr al-Baghdadi in the Syrian province of Idlib.
Newsweek magazine quoted US military sources as saying that the IS leader has died but no official confirmation has been received yet. Even before this, news of Baghdadi's death has come many times.
According to the CNN report, the US military also successfully carried out an operation against Baghdadi. This report says that the US intelligence agency CIA had detected the location of Baghdadi.
President Trump will announce it on Sunday at 9 am according to US time.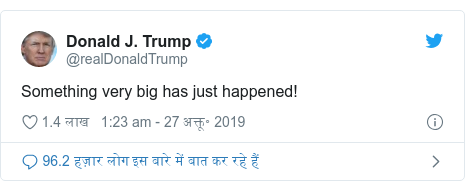 White House Deputy Press Secretary Hogan Guidley told CNN that the announcement is related to foreign policy. There is no statement on this from the American military.
Baghdadi has been the head of an alleged Islamic state and was underground for the last five years.
In April, a video was released by the Islamic State's media wing, al-Furqan. Al-Furaqan said through the video that Baghdadi is alive.
In July 2014, Baghdadi appeared for the first time after giving a speech from the Holy Mosque of Mausal.
In February 2018, several US officials said that Baghdadi was injured in a May 2017 air strike.
Baghdadi became the leader of the Islamic State of Iraq (ISI) in 2010.